2020 Luncheon Virtual Can Raffle Drawing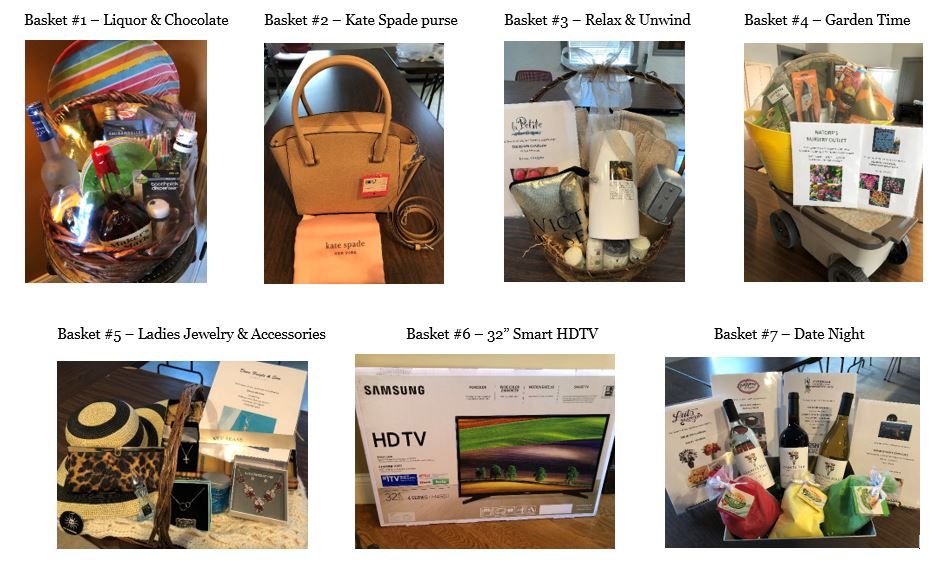 Although we had to cancel our 2020 Spring Luncheon (twice, no less!), we know that our guests were anticipating our wonderful Can Raffle gift baskets. So, we're doing a Virtual Can Raffle featuring some of the most amazing gift baskets that would have been part of our Luncheon event can raffle. And this will help us raise a few more funds to keep saving babies...so please get your tickets today!
Tickets are only $5 each. For each ticket you purchase, you will have the option to indicate for which basket you want your chance...please see the basket details, below. The drawings will take place on Monday, June 1st, 2020. Winners will be contacted to pick up their prize(s).
Thank you for your support as PCW works to save the unborn.
Here are the seven (7) amazing gift basket options from which to choose...please select one of these 7 options for each ticket that you purchase. If you get multiple tickets, you can choose the same gift basket for all of them, or mix it up. For example, if you buy 5 chances, you could identify all 5 for the same basket, or a different basket for each one, or any combination. It's up to you!
Gift Basket #1 -- Liquor & Snacks -- includes a popular assortment of top-shelf liquor, including Grey Goose vodka, Bacardi rum, Chivas Regal, Tanqueray Gin and Maker's Mark bourbon, Ghiradelli chocolate squares, Hillshire Farms summer sausage snack stick and party accessories. Est Value: $190
Gift Basket #2 -- Kate Spade purse -- "Sydney" -- a beautiful medium-sized satchel in pale vellum (pink). List price: $298
Gift Basket #3 -- Relax & Unwind -- includes a $25 LaPetite Salon & Spa gift certificate, Luminara Dream Candle with remote, Set of 12 bath towels, Victoria Secret duffel bag, Merle Roberto Virgin Olive Oil wrinkle eraser & neck firming gel, and 3 Yankee Candle Tahitian Nights votives. Est. Value: $190
Gift Basket #4 -- Garden Time -- includes a garden scooter, $25 Natorp's gift certificate, Friedhoff Florist $25 gift certificate, and a wonderful assortment of tools including pop-up garden bag, Fiskars hand pruners, knee pads, hand shovel, and hose nozzle, bamboo gloves, Audobon bird calendar and Burpee seeds. Est Value: $225
Gift Basket #5 -- Ladies Jewelry & Accessories -- includes a $50 Dave Faigle & Son gift certificate, sterling silver interlocking circle necklace, yellow gold diamond chip cross necklace, Liz Claiborne necklace & earrings, Apt. 9 clutch/wallet, Falls Creek sun hat, V. Fraas plaid scarf, jewelry cleaner, Oneida crystal bottle/mini decanter and handmade afghan. Est Value: $300
Gift Basket #6 -- Samsung 32" Smart HDTV -- a great size for many applications with all the most-popular features and capabilities. Est Value: $199
Gift Basket #7 -- Date Night -- includes a $50 PrimaVista gift certificate, $40 Lutz Florist gift certificate, $30 Covedale Theater gift certificate, $25 Bonbonerie gift certificate, and three (3) bottles of Granite Hill Cellars wine and three (3) Nectar of the Vine wine frappe mixes. Est. Value: $235