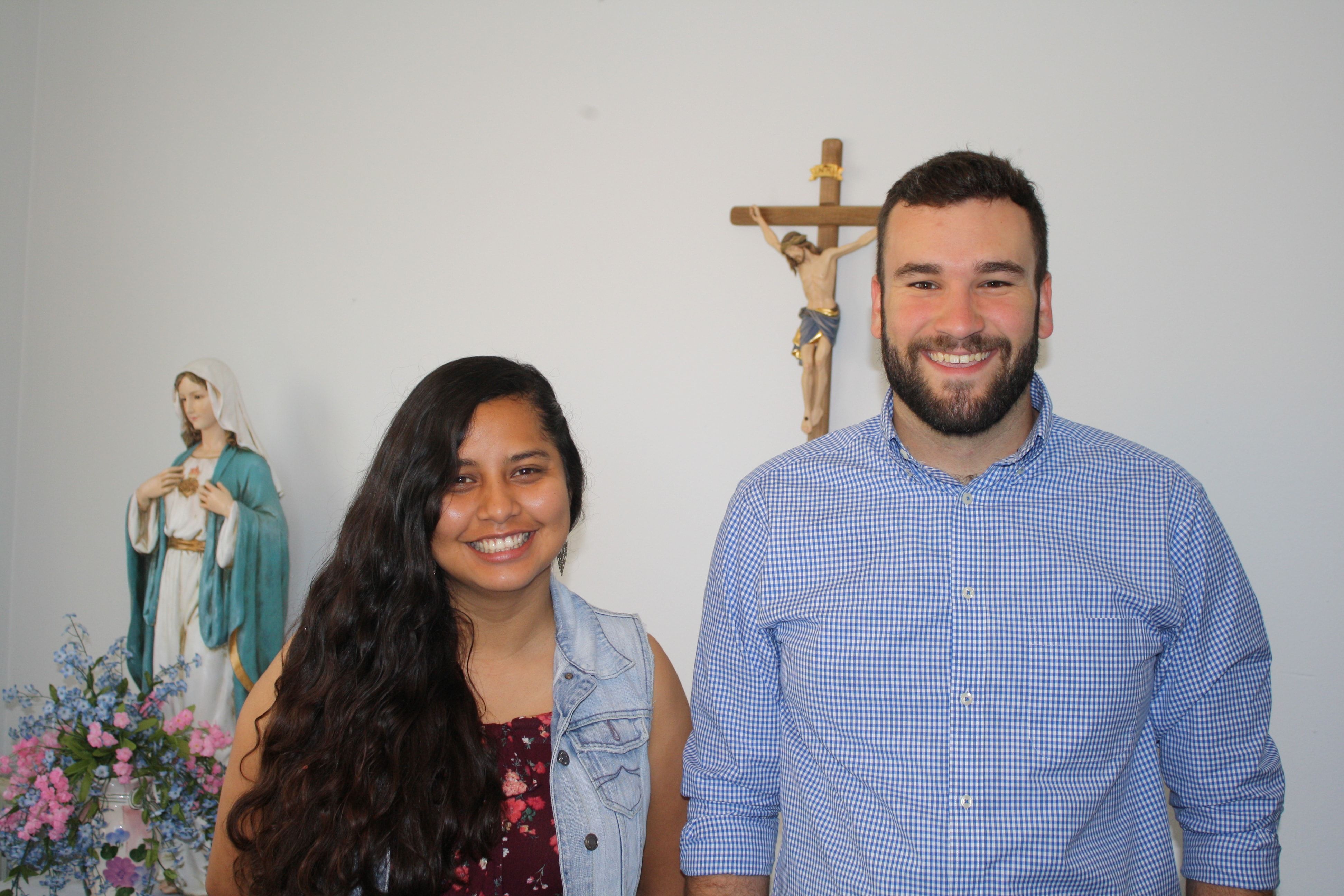 (Cincinnati, OH, June 29, 2018) – Pregnancy Center West (PCW) announced today that it has hired two new educators for its in-school chastity training program, "The Body Matters." Leticia Cruz and Nathanael Egan have already joined the organization's team and will begin presenting the program at the start of the new school year.
"We're delighted to welcome Leticia and Nathanael in this key role," stated Nicole Santaella, Executive Director at Pregnancy Center West. "PCW's chastity education program provides the opportunity to get in front of grade- and high-school-age students with the important message of God's plan for their lives and sexuality. I know that Leticia and Nathanael will be excellent presenters and role models to the students." This past school year PCW's chastity program was presented to nearly 2,700 students.
Leticia Cruz was born and raised in California. She is completing her Bachelor's degree in Theology at Franciscan University in Steubenville, OH. Leticia studied abroad in Gaming, Austria, where she completed a course in Theology of the Body, which addresses God's plan for human sexuality as outlined through a series of teachings by Pope St. John Paul II. Nathanael Egan, a native west-side Cincinnatian, has been working in youth ministry for the past seven years. In his spare time, Nathanael enjoys hiking and camping; he is also an accomplished musician and woodworker.
"It's been so much fun getting to know Leticia and Nathanael as I've oriented them to The Body Matters," stated Laura Caporaletti, Chastity Training Coordinator at PCW. "As I transition out of this role I'm confident that our new educators have the heart, faith and skills necessary to positively impact the lives of local youth for God."
About Pregnancy Center West:
Founded in 1981, Pregnancy Center West (PCW) is a Christian, pro-life ministry dedicated to helping women facing untimely pregnancies choose life for their babies, providing assistance with pregnancy and parenting-related services to help make life-giving choices easier, and encouraging lifestyles of sexual integrity in keeping with God's plan for relationships. Located at historic Prout's Corner (where Glenway Ave., Guerley Rd. and Cleves-Warsaw intersect), the center engages women and their families every day as they work to fulfill their life-affirming ministry. PCW is an affiliate of Heartbeat International and the National Institute of Family and Life Advocates and is a member of the Greater Cincinnati Pregnancy Center Coalition.